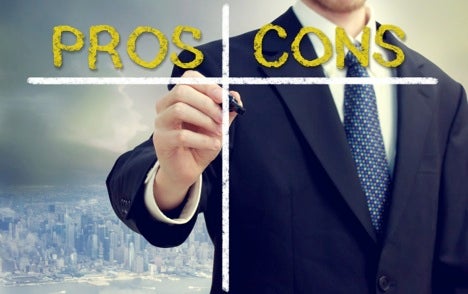 Having access to the right equipment for various types of projects can greatly help boost your company's earnings. However, the capital resources required to purchase certain types of equipment, such as cranes, can require a major commitment. Deciding whether crane rentals or crane purchases are better for your business is something you need to evaluate carefully.
Pros of Crane Rentals
Renting cranes offers numerous benefits for companies of all sizes, including:
Access to modern cranes with the latest features.
Wider selection of cranes to choose from.
No transportation costs.
No maintenance expenses.
Allows you to "try" before you "buy."
No inspection and service costs.
No long-term capital investment required.
Flexibility to switch out different types of cranes if needed for your project.
Access to specialty cranes.
Can customize equipment to fit your specific needs and requirements.
The insurance required is based on the type of projects/jobs being performed.
No equipment to depreciate.
No hassles of trying to find buyers for used cranes for sale.
Minimal, if any storage costs.
Cons of Crane Rentals
While there are certainly numerous advantages of renting cranes, you also need to consider what drawbacks or disadvantages there potentially could be, based on the requirements for your various projects and jobs.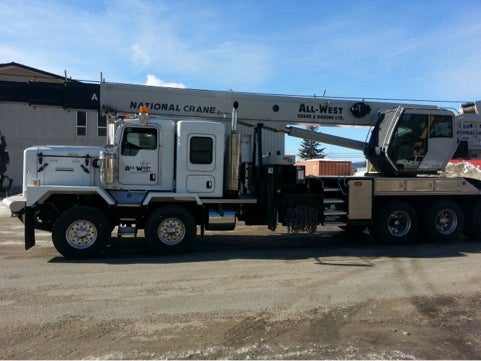 May need to train your own crane operators on all the different models you intend to use.
There can be a waiting period for certain cranes at various times of the year, like in the summer when it is "high construction season."
Renting could cost more than buying if you constantly need access to a specific crane model.
It is worth mentioning, in regards to crane operators, it is possible to have the rental company provide qualified, trained, and skilled operators. This could be considered another benefit for companies that do not have their own pool of operators. Just remember there is often an extra charge for this added service. Yet, the costs could well be justified since you would not have the additional expenses of training, licensing, and certification.
Pros of Buying a Crane
Depending on the number of projects and jobs you do each year, and how often you use a crane, it might be worthwhile to consider investing in your own instead of renting. Buying a crane can provide the following benefits:
May be able to deduct some or all of the equipment purchased from your business taxes.
The depreciation expense may be tax deductible.
There might be other tax benefits for purchasing.
New cranes last an average of twenty to twenty-five years with proper maintenance.
You have access to a crane whenever you need, and you do not have to wait for one to become available.
You could be able to finance up to 100% of the purchase price, along with additional money for the installation and transportation of the crane, as well as training of your employees.
The crane has residual value, so you could sell it or trade it in when you want to upgrade to a new model.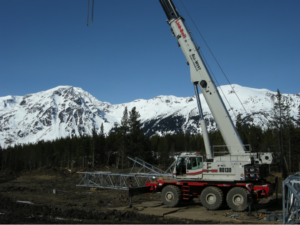 Cons of Buying a Crane
There are several disadvantages to buying a crane you need to weigh when deciding whether crane rentals or crane purchases are better for your business.
You are responsible for all costs for maintenance, repairs, and inspections.
You have to pay for all training, certification, and licensing of your crane operators.
You are responsible to have the right type of insurance coverage on the crane, on your operators, and for each job where the crane is used.
Over time, the crane can start to feel dated and will not allow you to have access to the latest features and options.
Buying a cranes does require a long-term capital investment.
You will have to pay all transportation costs from one job to the next.
You will have to pay storage costs when the crane is not being used.
Customizing the crane with different equipment for various jobs can be limited.
Four Factors that Affect Your Decision
Now that we have covered the pros and cons of crane rentals vs. purchasing cranes, let's look at some essential factors that could affect your decisions to rent or buy:
Safety Considerations:
It is vital to maintain a safe working environment at all times. The safety requirements extend to cranes as well. It is your responsibility to ensure your employees are adhering to all required safety precautions and rules on the job site, including while the crane is in operation.
Training Is Mandatory:
When the operator gets into the crane, this is not the time for pushing buttons to see what they do and experimenting to try to figure out how to make the crane work. Whether you rent or buy cranes, anytime you want to operate them using your own operators, you must invest in training. The resources, money, and time needed for proper training is something you cannot cut corners on. Crane Operators in Canada must be Red Seal Certified and often, cross province equivalencies must be obtained.
Rent or Buy from a Reputable Supplier:
Thanks to the internet, you can sure find some great deals on cranes. However, not all suppliers are reputable and experienced. You want to find a supplier that has been in business for quite some time and which has an established reputation in the industry, like we do, here at All-West Crane & Rigging Ltd.
Evaluate Your Business Needs:
It is in your best interests to look at your entire business and consider how renting or buying a crane will impact other areas. For instance, buying a crane could limit what capital resources you have left, so you would not be able to hire new employees or have money available for other equipment purchases.
Keep in mind, any short-term gains on long-term equipment purchases could end up being more expensive and have a longer-lasting financial impact on your business.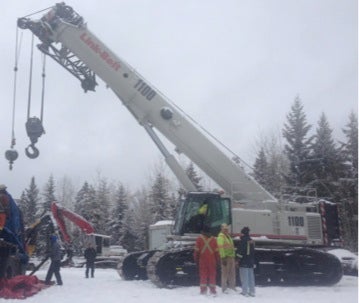 Liabilities to Be Aware of When Renting Cranes
There are certain liabilities you will be responsible for when renting a crane. You are required to have the right types of insurance coverages for the project or job site. However, your liability can be limited.
For example, the crane owner is required to maintain insurance on each crane. In addition, if something occurs on the job site that results in damages or injuries, and its cause can be attributed to equipment failure, then the owner could potentially be held accountable.
In addition, the owner will normally assume all liabilities for transporting the crane to your job site or from one job site to the next whenever you need it moved.
Liabilities to Be Aware of When Purchasing Cranes
The extent of your liabilities is much greater when you buy cranes. You are responsible for all insurance coverages for each project and job site, as well as coverage on your crane. In some cases, you may even need to have liability coverage on all of your crane operators. Additionally, you are responsible for all liabilities for transporting the crane from one job site to the next.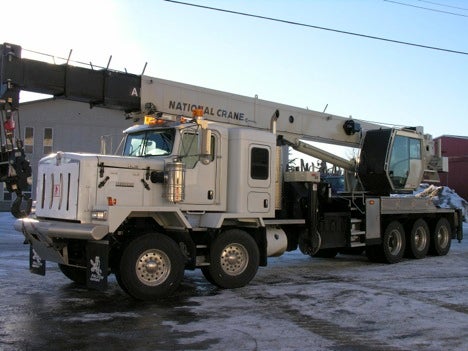 As you can see, deciding between crane rentals and purchasing cranes requires taking some time to answer several questions and evaluate various factors related to your specific jobs and projects. In some cases, renting could be better if you need access to a specialty crane.
In other cases, buying might be better if you always use a particular model for the majority of your jobs and projects. One final tip: If you are considering buying your own crane, look at used cranes for sale from your crane supplier. Buying directly from your rental supplier can provide you access to quality and well-maintained equipment you are already familiar with and to a supplier you trust.
For used and new cranes for sale, rental cranes, and other equipment for your projects and jobs, please feel free to contact All-West Crane & Rigging Ltd. at 877.203.0069 today! Our services are available in British Columbia and Alberta. No project or job is too big or too small!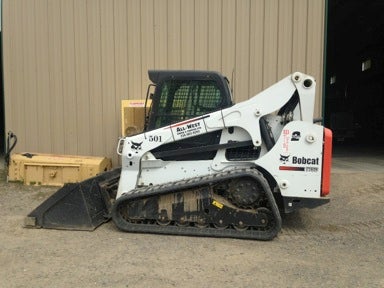 The kind of fleet transportation services you require is often dependent upon the type of industry your business serves. For instance, in the construction industry, construction companies need access to cranes, bobcats, forklifts, enclosed job site trailers, and other heavy machinery and equipment.
Fleet transportation services consist of more than just heavy equipment, machinery, and crane rentals. For construction firms and independent contractors, fleet transportation also requires understanding how to manage a fleet of vehicles and equipment. You need to carefully budget and balance your resources with your equipment needs to complete a job as promised.
In addition, fleet managers must monitor and keep up with equipment and machinery maintenance to ensure they are operating optimally at all times. Since most construction companies and independent contractors operate on a smaller scale, it can be difficult to build their own equipment and machinery fleets and keep up with maintenance.
As such, it is often better to turn to a company that offers a wide array of fleet transportation services, including managing entire fleets of heavy equipment and machinery. This way, when equipment is rented from the service company, you can rest assured that all maintenance is current and the crane or other equipment is safe to operate.
Furthermore, fleet transportation services could also extend to the transport of the heavy equipment and crane rentals to your job sites. However, not all third-party service operations offer this value-added service, which means you have to make arrangements to pick up the fleet equipment and vehicles you rented.
At All-West Crane & Rigging Ltd., we understand how important your time is and never make you pick up your own fleet equipment and vehicles. We work with you and make arrangements to deliver everything you rented from us right to your job site.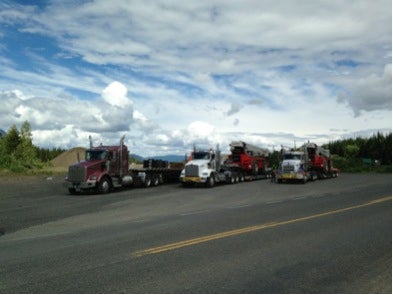 Why Do You Need Fleet Transportation Services?
Getting the right equipment to the right job sites at the right times is difficult enough when you attempt to do everything yourself. By relying upon a third-party fleet transportation service, you know whatever equipment and machinery you rent will be delivered to your job site on time, as promised.
Plus, you do not have to worry about having to transport the fleet yourself. Construction equipment like bobcats, forklifts, and cranes weigh thousands of pounds. Safely transporting this type of equipment requires knowing which types of transportation vehicles work best to protect the machinery and equipment.
If the transportation vehicle you select is not capable of supporting the weight of the load, not only are you risking damage to the equipment you rented, but also to the transport vehicle. Additionally, when accidents occur, this causes delays in getting the equipment to your job site and being able to get your work done.
This is why you need reliable fleet transportation services from a heavy equipment and crane rental company you can trust, like All-West Crane & Rigging Ltd. We currently have five different types of transport vehicles we use to get your heavy equipment and machine rentals to your job sites. If you have multiple construction projects you are managing, we can provide the right equipment for each one so you can complete them simultaneously.


When Do Your Need Fleet Transportation Services?
Part of the challenge for construction companies and independent contractors is having access to the capital resources necessary to build a solid fleet for each and every type of job. In fact, this is quite hard to do unless you are fortunate enough to have deep pockets and unlimited resources.
Most construction firms and independent contractors tend to utilize reliable third-party fleet transportation services to assemble the necessary heavy machinery and equipment to do a job. In some cases, the company may already have a few essential pieces of equipment, like a job site trailer and bobcat, but then use crane rentals from a fleet transportation service to get the cranes they need to do the job.
Furthermore, many construction firms and independent contractors are looking for ways to cut fleet costs for a more efficient and cost-effective management of their heavy equipment and machinery. It is not difficult to reduce fleet costs by turning to a third-party fleet transportation service provider. Doing so can provide the following money-saving benefits:
The Size of Your Fleet Is Reduced
Reducing the amount of equipment and heavy machinery you own is an effective way to reduce fleet costs. Each piece of equipment and heavy machinery has its own TCO (total cost of ownership), which varies.
These costs could range from several thousands of dollars to tens of thousands. For instance, if you have ten forklifts, and each has an average TCO of $6,000 a year, this amounts to $60,000 you could eliminate by reducing the size of your fleet.
Maintenance Costs Are Reduced
When you cut down on the size of your existing fleet and use crane rentals and other heavy equipment and machinery rentals to supplement your fleet needs, you have no maintenance costs. The rental company takes care of all maintenance, service, and parts replacements required to maintain the equipment.
The amount you save on maintenance costs does depend on the type of equipment and frequency of maintenance required. Many construction firms can save thousands of dollars annually—sometimes more.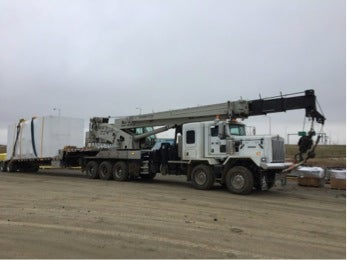 Fuel Costs Are Reduced
Since you do not have to worry about transporting fleet equipment and machinery from one job site to the next, your fuel costs are also reduced. Fuel savings may not be as much as some of the other savings, but every little bit does start to add up.
Reduced Transportation Insurance Costs
The types of insurance you require to transport cranes and other construction equipment can put a dent in your resources. However, by relying on a third-party rental company to haul and transport the rental cranes and equipment to your job site, you have no "over-the-road" insurance expenses to worry about.
Reduced Lifecycle Replacement Costs
Part of the problem in the construction industry is keeping machinery and equipment well past its replacement cycle. As a result of using an aging fleet, operating costs tend to increase because older equipment needs more maintenance and tends to use more fuel.
By renting equipment and machinery from a fleet transportation service, you gain access to newer machines and equipment. Some of these could even feature new technologies to make your job easier. Since you are renting, the lifecycle replacement costs to replace a piece of aging equipment only amounts to the cost of the rental.
Costs to Acquire Equipment and Machinery Are Lower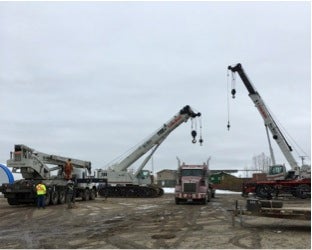 The biggest part of investing in heavy equipment and machinery for construction firms are the TCO and acquisition costs. If there is a particular piece of equipment or crane you rent and want to purchase, you can acquire it for less through the fleet transportation service.
Purchasing used equipment costs much less than buying the same equipment brand new. Plus, you already know the heavy machinery or equipment has been well maintained. Buying used equipment can be a sound business decision when you use a specific type of equipment frequently and, in the long run, owning it would be more cost-efficient than renting it every time you needed it.
Relying upon fleet transportation services not only helps lower your overall fleet management costs but also can provide you access to quality used equipment for a fraction of the price of new.
For additional information about our heavy equipment and crane rentals and fleet transportation services, please feel free to contact All-West Crane & Rigging Ltd. at 877.203.0069 in British Columbia or +1 780-231-2910 in Alberta today! We look forward to discussing your job site equipment and machinery needs and lending our expertise to provide what you require.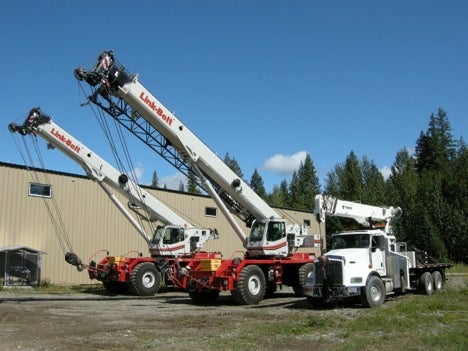 Choosing the right crane and crane equipment doesn't only mean knowing the size, load capacity, and operational parameters of the system. Tower and mobile cranes are the two basic types; since a mobile unit can easily be transported for crane rental, you can easily pick one from a rental company based on the types of objects it can handle.
Ignoring other factors can earn you and your business/facility violations, or you could lose your license. Doing so could lead to expensive fines and even accidents, injuries, and worse. When choosing a crane, consider the following:
Regulatory Standards
The Standards Council of Canada has developed 17 hoist- and crane rigging-specific standards, but others also apply, such as the American Society of Mechanical Engineers B30 series. There are 29 standards developed by the Committee on Cranes and Related Equipment, 16 of which are incorporated into provincial and territorial regulations.1
Provincial Regulations
In some provinces, training programs are required for crane operators. British Columbia differs in that an apprenticeship is required, but an official training program isn't. Is your team properly licensed to operate the crane and implement the project's lift plans?
Work Site Conditions
Consider whether the crane can handle:
• The load being lifted
• The height of the load
• Material and ground conditions below
• Ground obstacles in place
• Clearance height requirements
• Specific boom length requirements
• Being transported to and from the site
All-West Crane & Rigging Ltd. offers the most dependable crane rental services. In addition to crane services, we offer a planning tool to help choose a crane and assess the work site. For more details, continue browsing our site or call 250-992-5592.
Source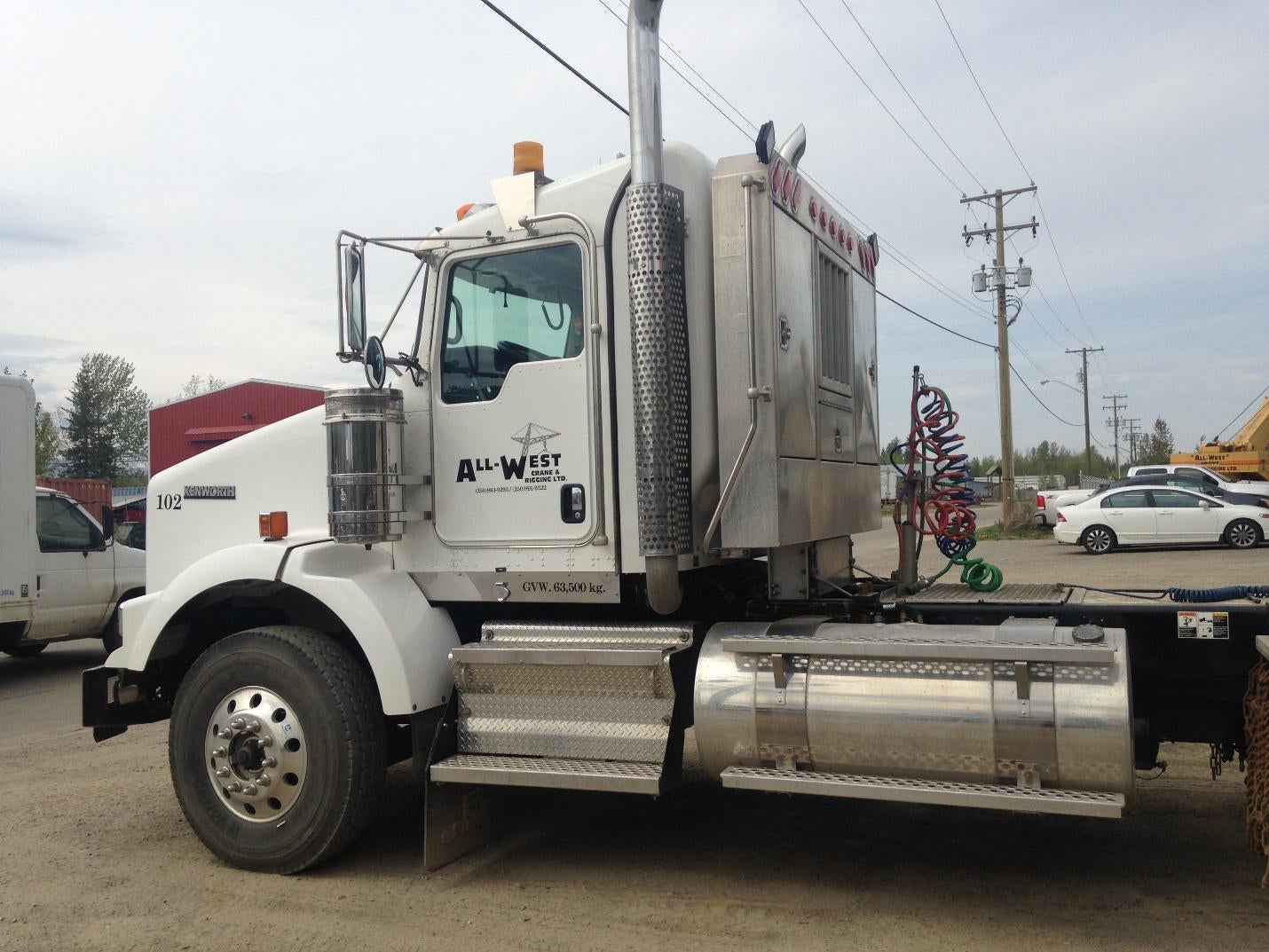 Bobcats, forklifts, car haulers, and other support equipment are important to have during any crane operation. Your crane rental supplies are essential for keeping your business or company going. They're also critical to ensuring efficiency and safety at a job site.
Quality
One important aspect to think of is quality. Top-notch crane rigging and ground support equipment are reliable, usually avoiding the need to purchase alternatives or require additional rental stock. Look for brand recognition. Even if you are renting crane equipment, look for names you can recognize, such as Link-Belt, Tadano, and other brands All-West carries.
Logistics
Logistics is another consideration. With the appropriate forklifts, your crew can move important items from place to place, allowing the operation to go more smoothly. Heavier goods can be stacked and secured and removed, allowing you to get more out of crane rental services.
Safety
Car haulers enable you to get critical equipment from one place to another. Enclosed trailers help move equipment safely as well. Support equipment is, therefore, crucial for any construction site, and quality systems improve job site safety significantly. Well-built, well-maintained support equipment not only complements crane services from leading providers but helps prevent accidents and workplace injuries as well.
It's important to include this equipment in your lift plans. All-West can even include lifts and other equipment in 3D simulations to ensure these are properly managed on the worksite. For more information, view our crane equipment online or call 877-203-0069 in British Columbia or 844-200-8496 in Alberta today.
People have used their hands as an effective form of communication for centuries. When the crane was invented, it was a modern wonder. Large objects and materials could now easily be lifted and moved around construction job sites with ease. However, accidents could occur because the operator did not always have a clear view of everything around them.
The operator could not see if someone entered the work area where they were lifting materials. Nor could they always determine clearances and potential obstructions when lifting, moving, and lowering a load.
To resolve this problem and help reduce the risk of accidents, crane hand signals were created . Both the crane operator and a signaler on the ground learned the signals to communicate the desired intentions to lift and move materials.
What purpose do crane hand signals serve?
The primary purpose of hand signals is to direct and control the operation of a crane. Based on the placement of the arm(s) and movement of the hand(s) by the signaler, it tells the crane operator what actions they are to take, such as:
Extend the Boom
Retract the Boom
Lower the Load
Raise the Boom
Stop
Raise the Load
Lower the Boom
Swing the Boom
Keep in mind, this is just a short list of the many different types of crane operation hand signals. There are basic signals as well as specific signals for cranes used with locomotive cranes, crawler cranes, truck cranes, and so on.
How are crane hand signals helpful?
From the construction and building industry to the supply chain and cargo transport industries, cranes are used in many different types of environments and industries. Job sites tend to be very busy and active places with people all performing different tasks and functions simultaneously.
In addition, these environments can be rather noisy because of everything that is going on. This can make communicating verbally with the crane operator rather difficult because the signaler cannot just require everyone to stop what they are doing and be quiet.
The use of nonverbal hand signals resolves this problem. The signaler can let the crane operator know what function to perform. Furthermore, the operator sees the signals at the speed of light, compared to the speed of sound for verbal communications. This means hand signals can be transmitted much faster for continuous operations from the time the load is lifted off the ground until it is put back down in the desired location.
Why not just tell the crane operator what you want done?
You might be thinking, "Wouldn't it be just as easy to tell the crane operator what you wanted done with the load and let him go to it"? Communicating your intentions ahead of time is always a good idea to give the operator an idea of what you want done with the load, how you want it moved, and where you want it moved to.
However, there can be unanticipated and unexpected things that could occur during the operation of the crane. For instance, even though the job site has been cleared of workers in the area where crane operations will be taking place, a delivery driver could walk into the area looking for the foreman.
How do you let the crane operator know to pause or stop operations until you, the signaler, can secure the location once more? Yelling over loud construction equipment is not effective. This is why crane operation hand signals are vital . Crane signalers can convey changes in the work environment easily and quickly if adjustments are needed.
Why not just use radios or smartphones to communicate instead of hand signals?
The use of radios and smartphones are a good way to communicate and can be used for certain types of crane operations. However, before they are put into use, they do need to be tested to determine their effectiveness. Additionally, they should not be used as the primary method to communicate between the signaler and the crane operator.
You will still need to use and rely on hand signals for crane operations for several reasons, even if using radios or smartphones to communicate, as follows:
The level of background noise can carry over radios and smartphones, so the crane operator still may not be able to hear what you are saying.
There can be interference that causes radio and smartphone communications to sound staticky.
There can be "dead zones" on job sites where cellular communications will drop calls and not work.
It takes the crane operator longer to respond to a verbal command, as they have to hear what you are saying, then respond.
With nonverbal hand signals, the crane operator doesn't have to get clarification if they could not hear what you said or worry about any of the issues mentioned above.
What basic crane hand signals should operators and signalers know?
While it might seem there are numerous hand signals to learn, there are only between four and six basic signals that can be very effective at controlling the movements the crane operator makes.
Whether you rent a crane, have one you own, or rely upon a qualified and licensed contractor to provide crane operation services, everyone that has anything to do with the crane's operations should at least know these signals:
Lower the Boom: Extend the arm horizontally, with a closed fist and thumb pointing downwards.
Raise the Load: Arm bent and with the forefinger pointing upwards while rotating the finger in horizontal circles.
Swing the Boom: Extend the arm horizontally and point in the direction the boom is to be moved. For up or down, use the thumb and point it upwards or downwards; otherwise, use the forefinger for all other directions.
Raise the Boom: Extend the arm horizontally, with a closed fist and thumb pointing upwards.
Lower the Load: Arm bent slightly downwards, with the forefinger pointing downwards, while rotating the finger in horizontal circles.
Stop: Arm extended horizontally, with hand extended and the palm facing downwards and the other arm at one's side.
Please remember, these are just some basic hand signals, and there are others you will want to learn depending on the complexity of the load to be lifted and moved, the type of crane in use, and other such factors.
Crane Operations Jobsite Safety Tips
The signaler is essentially the eyes and ears of the crane operator. They should be standing in a location where they have a clear line of sight with the operator, the load, and the area where it is to be moved. The operator cannot see when there are obstructions like a wall in the way.
The signaler also must be aware and should have previously discussed the path of movement that will be used to move the load with the operator. This helps ensure the load is lifted and moved correctly. Remember, the hand signals given tell the operator how to move the load in regards to the crane's operations.
The crane operator should only engage movements as the signaler directs. If the operator cannot clearly see the signaler, a signal has not been given, or cannot determine what signal is being conveyed, then the operator should suspend movements immediately.
Signalers need to verify they can easily see the operator. As long as the operator and signaler can make eye contact, then that means they can see one another. However, the signaler also needs to take into consideration the direction of the sun and/or nighttime work lights that can make it difficult for the operator to see the signaler.
The signaler needs to be aware of any job site obstructions that could affect the operator's visibility, like walls, columns, support beams, and so on. It is not unheard of for the signaler to be able to see the operator, signal a movement, yet the arm is blocked from view by some type of obstruction.
As you can see, maintaining a safe job site and the safe movement of materials and loads while using a crane requires being able to effectively use and decipher hand signals for cranes. For crane sales and rentals, support equipment, load charts, 3D lift planning , and other services, please feel free to contact All-West Crane & Rigging Ltd. at 877.203.0069 today! Our products and services are available throughout British Columbia and Alberta.
Source: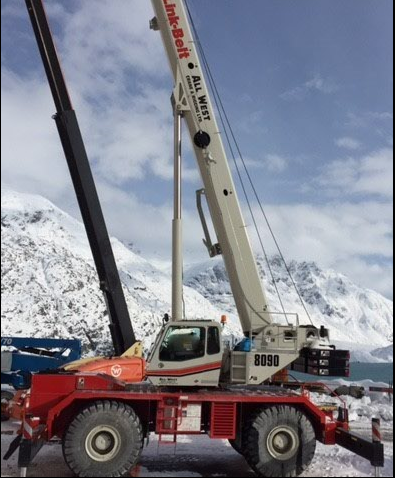 While technology has made cranes safer, the ultimate safety of a construction project depends on how they are operated. Most crane accidents occur due to boom failure or contact with a power line, overturned cranes, dropped loads, and boom collapse. Failed rigging and crushing by counterweights are causes of fatal accidents as well.
Crane and rigging equipment must be operated according to safety guidelines, by trained and qualified personnel, and according to product specifications. That means adhering to load capacity charts and inspection and safety protocols even when using a crane rental.
Recent Crane Accidents
Dartmouth, Nova Scotia – August 2017: A crane failed aboard an aquaculture vessel on Prince Edward Island, according to a Newswire report by the Transportation Safety Board of Canada. The cause was determined to be a design flaw, and investigators found no lifejackets were on board at the time.
Ottawa, Ontario – April 2017: A construction crane toppled on its side near a tunnel entrance while it was lifting a small cement mixer. An imbalance occurred because tracks to prevent tipping were not deployed, according to the CBC , causing the fall. There were no injuries.
Calgary – June 2010: A 70-ton mobile crane toppled while lifting a communications tower too heavy for the crane's rating, killing a 36-year-old father of two, as reported by the Calgary Herald .
Vancouver – 2009: A 22-year-old crane operator was crushed to death while working on a rapid transit line, and the crane tipped over. An investigation found a lack of supervision and training to be the cause, per details on All-West's website.
Why It's Important to Follow Crane Safety
Crane and rigging safety is essential on the worksite, particularly for the preservation of human life. Even a small crane can cause a deadly accident. A common issue is capacity; if a crane is lifting an object it's rated for, proper measures such as setting outriggers must be taken. Otherwise, the machine can become unstable and tip over, potentially killing operators or any workers in the way.
Any size of load can be dangerous, whether it's 5,000 or 50,000 pounds.
Safety-related accidents not only cost construction companies in terms of injuries, property damage, and equipment loss; they can also result in stiff regulatory fines. Lawsuits by injured workers and their families can cost into the millions of dollars, but injuries, lawsuits, and harm to a company's reputation aren't the only factors to consider.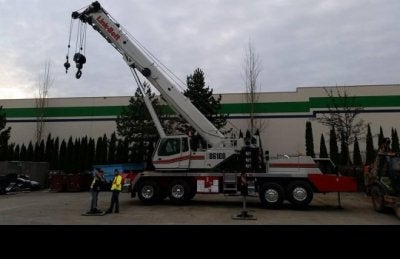 Regulatory compliance is a major factor in the crane industry. Canadian regulations reference and incorporate various standards, at the national and jurisdictional level, as discussed in an August 2014 industry report by the Standards Council of Canada (SCC). These include standards by the:
International Organization for Standardization (ISO) Technical Committee 96 on Cranes
Occupational Health and Safety Administration (OSHA)
Standards published by SCC-Accredited standards development organizations
American Society of Mechanical Engineers (ASME) standards, including its B30 standards overseeing the use of cranes, hoists, derricks, and hooks
Occupational Health and Safety standards must be followed by all crane operators and worksite laborers near cranes and related equipment. These range from safe inspections to proper grading, to use of crane mats, pads, and blocking. All operational and safety training must be provided in accordance with the most current standards.
Important Crane Safety Tips
Incorporating standards into your procedures and training is important, but more so are the safety measures in place for each crane service job. Before operating a crane and moving a load, check all parts, such as ropes, rope drums, sheaves, hooks slings, and mechanical components or guards for wear or damage. Rails, wheels, brakes, control buttons, and gears must be inspected as well.
Other pre-operating procedures include checking no lights are burnt out, a fire extinguisher is in the cab, and that no workers are near or on the crane. Crane operators should also check there are no overhead power lines that could obstruct the operation. A minimum distance of 3 metres should be kept from lines of 750 or more volts, while crane loads should be at least 4.5 metres from 150-volt lines and 6 metres from those over 250,000 volts, per guidelines from the Infrastructure Health & Safety Administration .
Even while a crane is moving, inspections should continue. Operators should always check a wire rope has smooth play to and from a drum, that sheaves turn smoothly when a rope passes over, and that both are aligned as the rope enters a sheave. They should also beware of jerky movements and rubbing, clattering, or scraping sounds. The limit switch on the crane for rent should first be tested under no load to ensure it is working properly.
Before lifting, operators should also be sure:
The load is free of loose materials, packing, and parts
The sling and hoisting ropes have no slack
The load does not exceed the maximum load capacity
The lifting device fits properly in the hook saddle
To move loads with minimal safety risks, operators should:
Begin hoisting only if nobody is nearby.
Ensure there are no obstructions to load movement.
Pad sharp edges on the load to avoid rigging damage.
Make sure safety features, such as latches on hooks/hoists, and emergency disconnects, are in place.
Sound a siren or other warning prior to starting.
Maintain smooth movements of crane controls and loads.
Follow signals from only one individual, unless it's a stop signal.
Check nothing catches on the rising/travelling load.
Maintain control during lowering, even if it means reversing the hoist controller during a brake failure.
The safety risks don't end when the operator leaves the crane. Before departing, they should remove the load from the crane hooks, raise the hooks to mid-position, and spot the crane at a pre-determined place. All controllers should be turned off before the main switch is closed. These actions are in addition to following equipment load ratings and limitations indicated by the crane service company.
Attentiveness also improves safety. In addition to monitoring the job, a qualified operator should never leave a suspended load unattended. When loads are in the air, they should always have an eye on the controls. Loads should also never be passed over workers, pedestrians, or street traffic; streets need to be closed to avoid injuries if the load can't be rerouted.
How to Ensure Your Construction Project Is Safe
To avoid safety issues at the construction site, the following elements must be in place:
Certified personnel : Includes an operator familiar with the crane model, its functions, characteristics, and limitations. Operators are responsible for safety as soon as they begin lifting a load, and to log all machine problems in writing. Crane owners must verify the safety of equipment and that operators are capable. They must ensure all jobsite personnel are experienced and properly trained.
Communication : There should always be a line of communication between crane operators and other workers. This is especially critical during lifting. You can use hand signals, radios, or air horns; if signalling by hand, make sure all workers are familiar with what every signal means. The Canadian Centre for Occupational Health and Safety outlines the signals qualified individuals use.
Plan ahead : The circumstances are different every time a load is lifted. Always review weight load capacities and crane and equipment limitations, equipment integrity, and other factors such as wind speed and direction. Involve all lift personnel in the planning, which begins well before crane hire and is made more accurate and efficient using All-West's 3D lift planning software .
Anticipate swing : Every crane has a swing radius—or the arc in which the boom and counterweight travel. When the radius is identified, close off an area equal to this to create a control zone, so no unauthorized people are put in danger. Also, establish a plan for avoiding known obstacles on the job site.
Proper use : Aside from load limits and other factors, workers also need to consider how they use equipment from the crane service company. Some crews have tried activities such as side-loading for cranes designed for vertical lifting. For example, dragging an object across the ground can put extreme stress on the crane structure, boom, and other parts. The integrity and strength of the crane may be compromised, and it must be thoroughly inspected if someone has used it improperly.
Never use cranes to lift people : If the machinery isn't designed for it, don't allow employees to be lifted. This includes hooking up man-baskets to the hoist. Although this might look like an efficient way to bring personnel to a work area, it creates undue risk, including fall hazards. The consequences of operator error are too great. There are safer alternatives, such as boom or scissor lifts.
Cranes are not storage tools : It's not uncommon for workers to attach equipment to a crane and suspend it as an overnight storage method. The risks include injury to an unsuspecting person beneath it or excess sway or toppling in high winds. Modern hydraulic cranes can develop leaks. Hydraulic leaks ultimately reduce pressure, causing the boom to drop and possibly cause catastrophic damage. Therefore, no crane or boom lift rental should be used for storage.
Investigations of past construction accidents often result in the publication of hazard alerts. For example, the Ontario Ministry of Labour (MOL) issued a hazard summary for truck-mounted mobile cranes in June 1995. A failure involving a 22-ton-capacity system was caused by failed inner bolts that were improperly torqued. The alert suggested all bolt torque values be equal per manufacturer's specifications, to ensure even distribution of stresses on mounting bolts.
Changes and additions to regulations need to be considered, too. In January 2016, the MOL issued a publication regarding the de-rating of mobile cranes used for handling materials over 16,000 pounds. It was intended to complement regulations from OSHA used in Canada. Cranes can be modified to reduce their lifting capacity, but only under certain conditions, and not to justify using a less qualified operator. Also, proper documentation and updated load-rating charts must be available.
Find "Cranes for Rent Near Me" from All-West Crane & Rigging Ltd. Today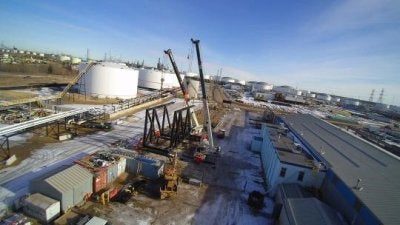 All-West is a regional leader in small crane rental and for customers looking for a crane truck for sale. It can aid in the planning, selection, and sales process, while the company's recognitions include COR Certification for its Health and Safety Management System. Therefore, your job site can remain most secure by following the above crane safety tips and resources. To learn more about our available cranes, support equipment, transport fleet, 3D lift planning, and other services, contact us at 250-992-5592.
Sources

There are all sorts of risks associated with construction projects, from natural disasters like fire and wind storms to vandalism, arson, and theft. As a contractor, you have a responsibility to ensure you and your employees are protected with the right types of insurance coverages.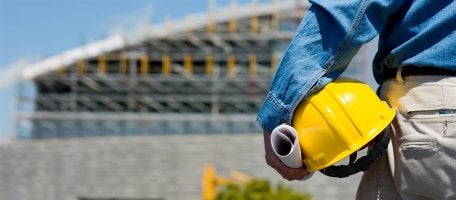 Contractor's all-risk coverage, also called builder's risk coverage, is insurance that protects the building during its construction. It helps protect against damages and losses that might occur. Most of the time policies are written to cover the completed value of the building.
As a general contractor, you are not always required to obtain this coverage, as the building owner normally gets it to protect their interests. However, contractors can be held responsible for any losses that occur due to their or their employees' negligence.Therefore, it is a good idea to have some form of liability insurance along with your own contractor's all-risk coverage with the appropriate endorsements, such as:
Remember, it is your responsibility to make sure you, your employees, and your equipment and tools are adequately insured, no matter what type of coverage the building owner has obtained.
For crane and support equipment sales and rentals, please feel free to contact All-West Crane and Rigging Ltd. at 877.203.0069 today! Our services are available throughout British Columbia and Alberta.

In Canada, over 100 people die in excessively cold and stormy conditions every year.1 Snow, ice, and poor visibility affect everyone, including drivers and construction crews using a crane rental service. These can affect crane service and bring construction projects to a halt.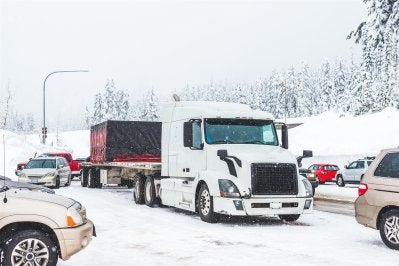 The hazards include:
Hypothermia : Overcooling and frostbite are possible by working outside too long in very cold temperatures. At temperatures of -26 to -28C and 16 km/h winds, heavy physical work shouldn't last more than 75 minutes with two breaks. At 32 km/h, it shouldn't be more than 40 minutes with four breaks.2
Equipment risks : High winds during a winter storm can cause cranes and hoists to swing and construction materials to break loose. A crane for rent that's not stable can lose loads or damage structures and equipment.
Vehicular risks : Freezing rain and ice pellets can coat the ground and utility lines and poles, but ice fog can reduce visibility on roads. Blizzard conditions aren't needed for roads to be hazardous.
Even with the best crane truck British Columbia crews can find, the hazards still exist. Aside from an affordable crane rental, prioritize winter safety to workers and shield drafty areas. That way, with crane rental, Alberta/BC crane operators and others can work more safely.
The crane companies Edmonton and crane companies Alberta construction crews rely on would expect you to work safely, so expect the same from your crew. For more information on crane rental in Edmonton, and our general crane rental services, contact All-West Crane and Rigging Ltd. at 250-992-5592.
Sources
https://www.canada.ca/en/environment-climate-change/services/seasonal-weather-hazards/be-prepared-for-winter.html
Archives
2018
2017
2015
2014
2013