An Overview of Fleet Transportation Services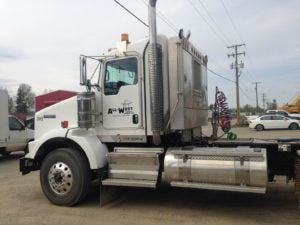 The modern construction industry often requires the use of heavy machinery that's not practical to own. Renting it is a logical choice for most businesses, but it's getting the equipment to the job site can be an arduous task. That's why fleet transportation services are such an invaluable asset, and why choosing a company that delivers the fleet to your site is a smart move for your business.
Because construction equipment can weigh thousands of pounds, transporting it is a complicated operation. It requires the toughest, most reliable trucks and trailers available, to prevent it from becoming damaged enroute to the site. Reliability of delivery doesn't just depend on the vehicles that transport the equipment, though. It requires professionally licensed, experienced drivers who know how to handle, service, and safely deliver the equipment they're transporting.
When you rely on professionals to bring your equipment to your site, you give yourself the freedom to focus on your work. Because you don't have to worry about picking up your fleet, you can give your full attention to the task at hand, planning your job and coordinating your employees to be ready when the rental equipment arrives. The transport company assumes the responsibility for the equipment's safe handling, relieving you of the risks involved in moving heavy equipment.
At All-West, we don't just rent cranes, forklifts, bobcats and other equipment: we safely deliver your fleet of equipment to any location in British Columbia. Currently, we use five different types of freight transport vehicles to ensure that your rentals arrive safely at your location. By using these vehicles, we're able to provide container transport and drop off your All-West rental fleet to your desired location.
• Kenworth highway tractors
• Highboy truck
• Low bed truck with six-, seven- or eight-wheel configurations
• Custom lightweight low bed with six-, seven- or eight-wheel configurations
• B-Train
These vehicles make up our current selection of transport vehicles, and we've amassed them with our available types of rental equipment in mind. We're always expanding, though, and our transport fleet will expand right along with our selection of equipment. You can be confident that any and all equipment you rent from us will be safely delivered to your site.
At All-West Crane and Rigging, we're committed to serving our clients, delivering not just the equipment they need to safely, quickly, and effectively complete their jobs, but also the services to help them meet their goals. In addition to providing the right cranes and support equipment for any job, big or small, we also offer specialized operators and skilled teams held to the high standards that earned us the BCCSA's Certificate for Health and Safety Management. Even if you need specialty equipment, we can find it for you, rent it to you, and deliver it to your site. What's more, we offer fleet tracking, so that you always know where your All-West rentals are. Visit our website or call (877) 203-0069 today to learn more about how we can help you.