An Overview of Diversified Products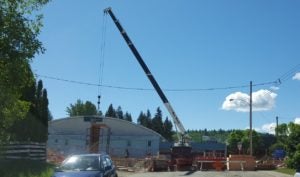 All-West Crane & Rigging Ltd. is proud to collaborate with Diversified Product Development, a company that has aided the construction industry for over a decade with field-tested solutions. We supply our clients with products from Diversified Product Development's LiftWise brand to assist in crane and rigging procedures. Take a look at the up-to-date product engineering and design that go into these crane accessories.
Crane Man-Baskets
When you need to access transmission lines and other high-reach maintenance areas, crane man-baskets are the safest option. They feature quick attachments for service cranes, boom trucks, knuckleboom cranes and digger derricks. Choose this alternative to renting an aerial lift, climbing a ladder or scaling precarious equipment.
Crane man-baskets from LiftWise include:
Rotating man-baskets
Single man-baskets
Yoke man-baskets
Single-man folding baskets
Custom man-baskets
Each variety of man-basket has been engineered with years of input from operators and field crews in mind. The next-generation designs are sure to fit your needs in the field.
Other Industrial Products
LiftWise offers an array of industrial products designed to meet the demands of the job while increasing productivity and safety for operators and workers. Some of the products available through All-West include:
Case-to-frame pallets for moving large dozer frames within a manufacturing plant
Case-to-frame pallet trucks for moving loaded pallets with battery power
Basket manipulators for lifting, positioning and emptying 90-pound wire baskets
Axle transporters for assembling and transporting wheel-loader axles
Opaat transporters for moving 30,000-pound wheel-loader axles
Paint carts for painting three sections of a boom simultaneously
Bin transporters for hauling parts between buildings
Flatbed transporters for hauling wheel-loader frames
Whether you need to rent a crane, purchase a new or used crane, or gain access to LiftWise products for your job site, you can turn to All-West Crane & Rigging Ltd. To learn more, please contact us at 866-205-9321 to reach our Quesnel, BC office or 866-224-7512 for jobs in Sturgeon County, AB.