What Kind of Fleet Transportation Services Do You Need?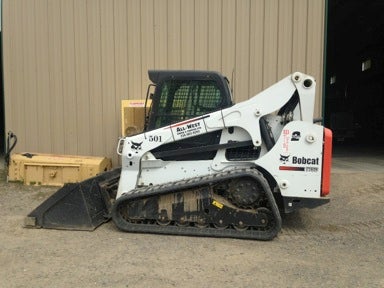 The kind of fleet transportation services you require is often dependent upon the type of industry your business serves. For instance, in the construction industry, construction companies need access to cranes, bobcats, forklifts, enclosed job site trailers, and other heavy machinery and equipment.
Fleet transportation services consist of more than just heavy equipment, machinery, and crane rentals. For construction firms and independent contractors, fleet transportation also requires understanding how to manage a fleet of vehicles and equipment. You need to carefully budget and balance your resources with your equipment needs to complete a job as promised.
In addition, fleet managers must monitor and keep up with equipment and machinery maintenance to ensure they are operating optimally at all times. Since most construction companies and independent contractors operate on a smaller scale, it can be difficult to build their own equipment and machinery fleets and keep up with maintenance.
As such, it is often better to turn to a company that offers a wide array of fleet transportation services, including managing entire fleets of heavy equipment and machinery. This way, when equipment is rented from the service company, you can rest assured that all maintenance is current and the crane or other equipment is safe to operate.
Furthermore, fleet transportation services could also extend to the transport of the heavy equipment and crane rentals to your job sites. However, not all third-party service operations offer this value-added service, which means you have to make arrangements to pick up the fleet equipment and vehicles you rented.
At All-West Crane & Rigging Ltd., we understand how important your time is and never make you pick up your own fleet equipment and vehicles. We work with you and make arrangements to deliver everything you rented from us right to your job site.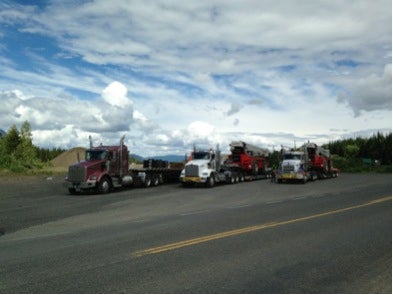 Why Do You Need Fleet Transportation Services?
Getting the right equipment to the right job sites at the right times is difficult enough when you attempt to do everything yourself. By relying upon a third-party fleet transportation service, you know whatever equipment and machinery you rent will be delivered to your job site on time, as promised.
Plus, you do not have to worry about having to transport the fleet yourself. Construction equipment like bobcats, forklifts, and cranes weigh thousands of pounds. Safely transporting this type of equipment requires knowing which types of transportation vehicles work best to protect the machinery and equipment.
If the transportation vehicle you select is not capable of supporting the weight of the load, not only are you risking damage to the equipment you rented, but also to the transport vehicle. Additionally, when accidents occur, this causes delays in getting the equipment to your job site and being able to get your work done.
This is why you need reliable fleet transportation services from a heavy equipment and crane rental company you can trust, like All-West Crane & Rigging Ltd. We currently have five different types of transport vehicles we use to get your heavy equipment and machine rentals to your job sites. If you have multiple construction projects you are managing, we can provide the right equipment for each one so you can complete them simultaneously.


When Do Your Need Fleet Transportation Services?
Part of the challenge for construction companies and independent contractors is having access to the capital resources necessary to build a solid fleet for each and every type of job. In fact, this is quite hard to do unless you are fortunate enough to have deep pockets and unlimited resources.
Most construction firms and independent contractors tend to utilize reliable third-party fleet transportation services to assemble the necessary heavy machinery and equipment to do a job. In some cases, the company may already have a few essential pieces of equipment, like a job site trailer and bobcat, but then use crane rentals from a fleet transportation service to get the cranes they need to do the job.
Furthermore, many construction firms and independent contractors are looking for ways to cut fleet costs for a more efficient and cost-effective management of their heavy equipment and machinery. It is not difficult to reduce fleet costs by turning to a third-party fleet transportation service provider. Doing so can provide the following money-saving benefits:
The Size of Your Fleet Is Reduced
Reducing the amount of equipment and heavy machinery you own is an effective way to reduce fleet costs. Each piece of equipment and heavy machinery has its own TCO (total cost of ownership), which varies.
These costs could range from several thousands of dollars to tens of thousands. For instance, if you have ten forklifts, and each has an average TCO of $6,000 a year, this amounts to $60,000 you could eliminate by reducing the size of your fleet.
Maintenance Costs Are Reduced
When you cut down on the size of your existing fleet and use crane rentals and other heavy equipment and machinery rentals to supplement your fleet needs, you have no maintenance costs. The rental company takes care of all maintenance, service, and parts replacements required to maintain the equipment.
The amount you save on maintenance costs does depend on the type of equipment and frequency of maintenance required. Many construction firms can save thousands of dollars annually—sometimes more.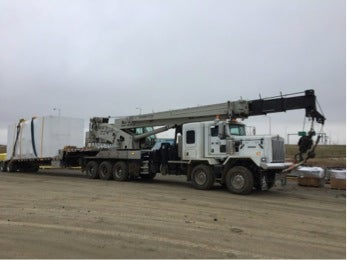 Fuel Costs Are Reduced
Since you do not have to worry about transporting fleet equipment and machinery from one job site to the next, your fuel costs are also reduced. Fuel savings may not be as much as some of the other savings, but every little bit does start to add up.
Reduced Transportation Insurance Costs
The types of insurance you require to transport cranes and other construction equipment can put a dent in your resources. However, by relying on a third-party rental company to haul and transport the rental cranes and equipment to your job site, you have no "over-the-road" insurance expenses to worry about.
Reduced Lifecycle Replacement Costs
Part of the problem in the construction industry is keeping machinery and equipment well past its replacement cycle. As a result of using an aging fleet, operating costs tend to increase because older equipment needs more maintenance and tends to use more fuel.
By renting equipment and machinery from a fleet transportation service, you gain access to newer machines and equipment. Some of these could even feature new technologies to make your job easier. Since you are renting, the lifecycle replacement costs to replace a piece of aging equipment only amounts to the cost of the rental.
Costs to Acquire Equipment and Machinery Are Lower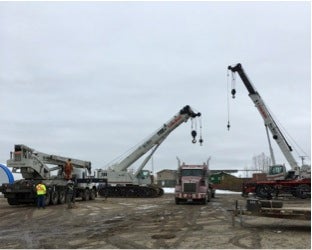 The biggest part of investing in heavy equipment and machinery for construction firms are the TCO and acquisition costs. If there is a particular piece of equipment or crane you rent and want to purchase, you can acquire it for less through the fleet transportation service.
Purchasing used equipment costs much less than buying the same equipment brand new. Plus, you already know the heavy machinery or equipment has been well maintained. Buying used equipment can be a sound business decision when you use a specific type of equipment frequently and, in the long run, owning it would be more cost-efficient than renting it every time you needed it.
Relying upon fleet transportation services not only helps lower your overall fleet management costs but also can provide you access to quality used equipment for a fraction of the price of new.
For additional information about our heavy equipment and crane rentals and fleet transportation services, please feel free to contact All-West Crane & Rigging Ltd. at 877.203.0069 in British Columbia or +1 780-231-2910 in Alberta today! We look forward to discussing your job site equipment and machinery needs and lending our expertise to provide what you require.