A Look at Some of Our Past Projects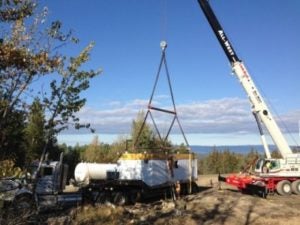 All-West Crane & Rigging Ltd. offers dependable crane rental services in Alberta and British Columbia. It's our responsibility to make sure your crew has the best possible equipment to complete the job quickly, safely and effectively. We rent out cranes for projects of all sizes to make sure you have just what you need! Take a look at some of our past projects to give you an idea of our capabilities.
Bridge Stringers
If you've ever driven up 72F Road near Wells and Barkerville in Stanley, BC, you've probably driven over the bridge All-West worked on with Celtic and Eldorado Construction. Our crane lifted the 27,700-pound bridge stringers needed for the project with beauty and precision. We're proud to say the job went off without a hitch.
Brucejack Mine
In June 2016, All-West supplied a 90-ton crane, a 130-ton rough terrain (RT) crane, and a 300-ton RT crane to work on Brucejack Mine located north of Stewart, BC. We also purchased a new 15-ton city crane and rented another to meet the project's requirements. In addition, 40 of our highly trained crane operators offered their skills during the Main Mill construction phase. Thanks to our high level of safety and attention to detail, the project was a resounding success.
Pipe Bridge
All-West teamed up with Supreme Steel Group – Bridge Division to build a pipe bridge in Edmonton, AB. The operators of our 100-ton truck crane and 130-ton RT crane worked individually for lighter loads and in tandem for heavier loads. The preparations we made using 3D lift planning resulted in a safer, more productive worksite.
Safeway Roof
When the Safeway at 445 Reid Street in Quesnel, BC required roofing repairs, All-West was at the ready. Our team worked alongside Flynn Canada to complete the repairs quickly and safely.
Biomass Plant Facilities
All-West helped to build and install portions of the biomass plant facilities in Fort St. James and Merritt, BC in 2015. Once fully operational, each plant will consume over 300,000 metric tons of biomass each year, much of which comes from trees killed by the mountain pine beetle epidemic. The anticipated 40 megawatts of electricity production will be enough to power nearly 40,000 Canadian homes.
Northwest Transmission Line
At the peak of construction in 2014, All-West supplied 12 cranes to help build the 344-kilometer-long, 287-kilowatt transmission line running from Skeena Substation near Terrace, BC to a new substation near Bob Quinn Lake. The Northwest Transmission Line provides clean power to the community of Iskut, a secure interconnection point for future power projects, and energy for potential new industrial developments in the region.
For access to well-built, carefully maintained cranes, turn to All-West Crane & Rigging Ltd. We rent cranes, sell new and used cranes, and supply other support equipment for construction sites. To learn more, please contact us at 866-205-9321 to reach our Quesnel, BC office or 866-224-7512 for jobs in Sturgeon County, AB.