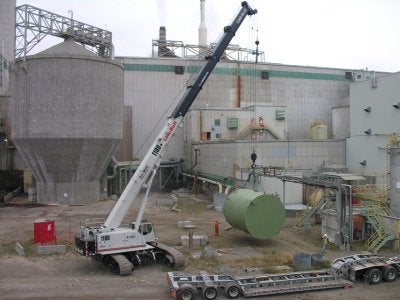 On Sept.26 All-West Crane and Rigging moved an oversize load through downtown Quesnel while residents slept. The load, an acid storage tank for Cariboo Pulp and Paper was so large that the lowbed carrying it had to lower its suspension just to fit under the Moffat Bridge over top the Quesnel River.
The load fit under the bridge with only a few inches to spare. Loads this large can only be transported at night between 12 and 5 am, with special permits and with a minimum three pilot cars to warn and stop traffic when needed. Traffic was stopped at both ends of the Moffat Bridge to allow the truck to crawl slowly across the bridge with a spotter to make sure they didn't get too close to the bridge beams. The move was a success, taking just over an hour and a half to go 9.1 kilometers.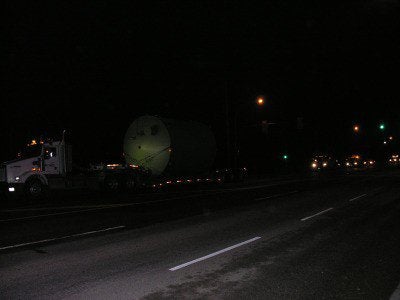 Heavy loads are no problem for All-West Crane & Rigging; it's what we do. After transporting this 28,000 lb acid storage tank to Cariboo Pulp and Paper during the middle of the night, due to oversize load restrictions, our 110 ton Telescoping boom Crawler was ready and waiting to unload and set-up the new tank. The tank had to be lifted over cable trays full of power lines, and lowered into place on a newly constructed concrete pad.
West Fraser's Cariboo Pulp & Paper pulp mill is humming with activity this week as they work on this years biggest shut-down. West Fraser knows who to call when they have heavy items to lift in challenging areas with a limited amount of space. All-West Crane & Rigging has 7 cranes on-site including our 3 ton SpyderCrane, 18 and 55 ton boom trucks, and four rough terrain cranes including two of the 90 ton RT's pictured here, and our largest crane, the 130 ton Rough Terrain Crane.
All-West Crane & Rigging is well seasoned in sawmill / pulpmill construction, maintenance, and shut-down work and offer a thorough service including lift planning, crane rental / operation, supervision, critical lift planning, logistical support, specialized rigging and much more.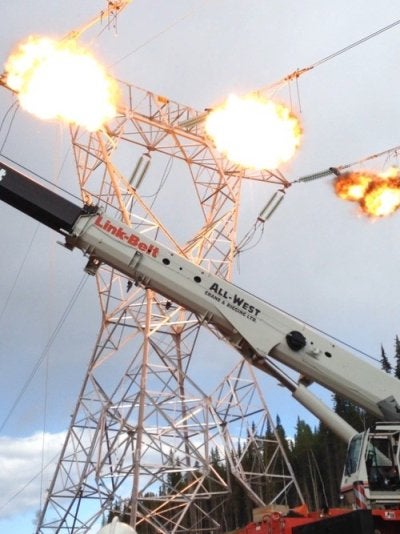 Line-men use detonation cord to create an implosion that fuses together the power line cables on this 287 kilovolt Transmission Line.
The Northwest Transmission Line is a 344-kilometre transmission line between the Skeena Substation (near Terrace) and a new substation near Bob Quinn Lake.
The new line will:
– Provide a reliable supply of clean power to potential industrial developments in the area
– Provide a secure interconnection point for clean generation projects
– Facilitate connecting the community of Iskut to the grid, so it doesn't rely on diesel generation
By extending the transmission grid to a new part of British Columbia, it's going to play an important role in the economic development of this growing region.
All-West Crane & Rigging has been heavily involved in the construction of the Northwest Transmission line and is proud to be a part of the forward thinking project.
New 130 ton RT
We have recently added another Link-Belt 130 ton Rough Terrain Crane to our fleet. Upon delivery, the crane headed right to work de-commissioning a local wood mill. This video shows it working in tight quarters, set up between the concrete pillars of a recently removed building, and lifting an 80 foot long, 60,000 lb de-barker to be put on a truck and sold to another mill.
The new crane was brought in to compliment the upper end of our existing RT fleet, further expanding our heavy lift capacity.
In heavy lift situations, we have been able to save customers a lot of money by using two RT's to complete multi-crane lifts rather than our customers bringing in large conventional crawler cranes which can accumulate relatively high mobilization costs.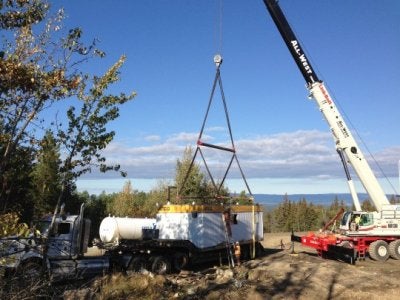 We have a large selection of spreader bars for all types of applications including Caldwell Rig-Master engineered Beam End Fittings.
The Caldwell Beam End Fittings (BEF) can have a capacity of up to 39 tons.
The Caldwell Beam End Fittings are designed to use Schedule 40 ERW pipe as the central structural element between the end fittings, giving you the ability to have spreader bars of different lengths, for a fraction of the cost. Schedule 40 ERW is readily available at most steel service centers. The Caldwell Model BEF-2 ½ requires a 2 – ½" nominal size, the model BEF-5 requires a 5" nominal size, and the BEF – 8 requires an 8" nominal size schedule 40 ERW pipe.
Other requirements are:
– The length of pipe used for this central element must be straight within ¼" end to end.
– The pipe should have the ends cleanly cut square with its centerline.
– The schedule 40 ERW should not have any weld joint irregularities.
– Each end of the schedule 40 ERW pipe must have the correct diameter holes drilled through both walls and both ends must be in line.
– The schedule 40 ERW pipe used in this application does not need to pass any pressure testing.
The retaining bolts used to secure the Caldwell Model BEF 2-½ and 5" to the schedule 40 ERW pipe must be a Grade 5 Hex Head Cap Screw 5/8"-11 with minimum length of 4-1/2" and 8" respectively. The bolt for the BEF-8 is a Grade 5 Hex Head cap screw 1-8 with a minimum length of 11-1/2"
Note: Complete assembly instructions are provided with each set of end fittings.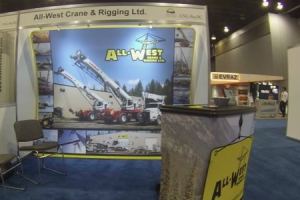 All-West Crane & Rigging will be attending the LNG-in-BC conference on May 21-23 at the Vancouver Convention Centre and will be hosting a booth to connect with customers and suppliers throughout the convention. We are very excited for the future and look forward to the progress of the Natural Gas industry in British Columbia. We look forward to seeing you there. Come check out our booth, number 807 near the front of the main hall, to the left of the entrance.
For more information on the event, check out:
Engineered, Unbreakable & Built to Last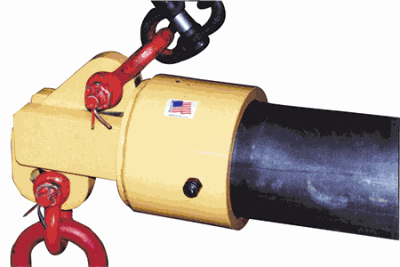 Equipment support is achieved by spreading the load from an outrigger float over the larger surfaces of outrigger pads. This reduces the overall pressure being directed into the ground and effectively supports and stabilizes the equipment.
DICA's SafetyTech outrigger pads are light weight and boast standard ergonomic features making them safe and easy to use.
Industry leading features include:
– DICA's guaranteed unbreakable material provides exceptional strength and durability.
– DICA pads weigh up to 50% less than comparable wood outrigger pads.
– Industrial grade safety texturing provides an effective non-slip surface for both equipment and personnel.
– Patented TuffGrip Handle system. Handles provide exceptional strength and grip comfort in an easy to use handle. Compact lengths encourage safe lifting while reducing the risk of tripping or entanglement.
– Round pads reduce the potential for injuries by allowing personnel to roll the pad.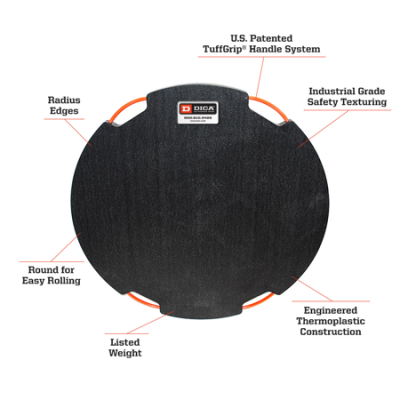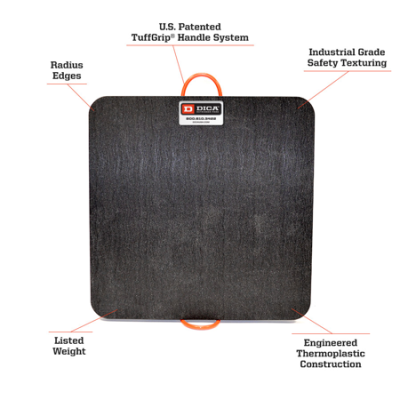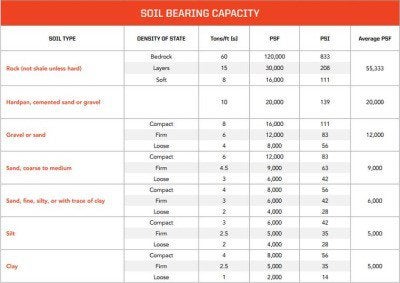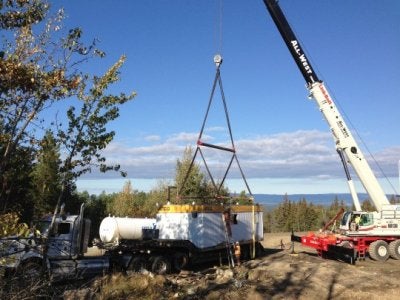 All-West Crane & Rigging Ltd currently has 12 cranes including a Spydercrane mini-crawler, 8.5 ton carry deck crane, 2 boom trucks, 1 telescopic crawler and 7 rough terrain cranes, the largest of which has a 130 ton capacity. The newest addition to complement our fleet is a Link-Belt TCC1100 Telescopic Crawler Crane. This unit features 150 feet of main boom and many other unique features. Furthermore, we have added significantly to our line of "below the hook" specialty rigging which includes: container hooks, varying sizes of spreader bars, man-baskets, pallet lifters, and remote release rigging.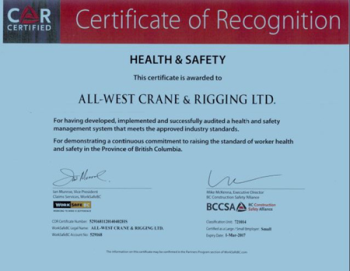 We have recently become COR certified in the Province of British Columbia through the BCCSA (British Columbia Construction Safety Association) and are now member contractors with Browz and ISnetworld's contractor safety compliance management systems.
All-West Crane & Rigging Ltd has developed a solid working relationship with several large industrial clients in addition to the construction and mining industry.
We would be happy to discuss your crane or trucking needs as we are looking to expand our customer base.
In the ongoing process of improving our services, we are reviewing our crane inventory and can provide larger capacity cranes if required.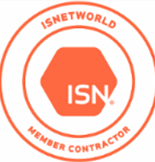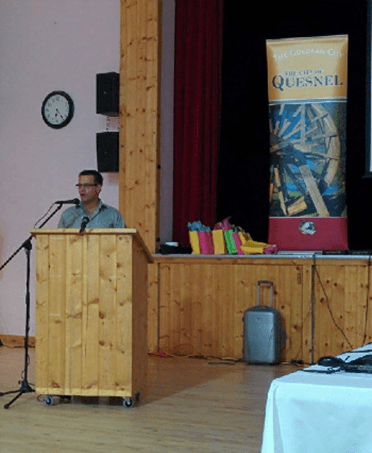 All-West Crane and Rigging's President, Jerry van Halderen was invited to speak at the
OurQuesnel
Economic and Innovation Forum on April 15th to discuss the changing dynamics of business in Quesnel and the Northern Cariboo Region. While most of the forum was focused on the declining amount of wood fibre available to forestry companies in the region, and what companies can do to overcome this challenge, Jerry directed his attention more towards sub-contractors and support industries in and around the Quesnel area. Jerry spoke about his experiences and how he has led All-West Crane and Rigging through some of the unique challenges presented by a declining forestry industry in the Region
He stated:
"the solution lies in cooperative alliances. Today's businesses need to become highly specialized to achieve new levels of efficiency. Instead of one company trying to do everything, choose what you are good at. Work with other companies that are good at their speciality and that compliment your service or product. Keep working to build alliances and relationships until you have the complete package to achieve your goals."
His message was received loud and clear by many of the attendees at the OurQuesnel Economic and Innovation Forum. Strategic alliances allow small businesses to focus on their core competency while reducing business risk by providing consistent opportunities for new work and growth.
Jerry also echo'd Premier Christies Clark's vision for Quesnel and the province during her speech at the West Fraser Timber Room in Quesnel on Friday April 11th. "Quesnel is rich in a skilled workforce and professional businesses serving a broad industrial base, and is well positioned to partake in the boom of activity available to British Columbian's for the next several years to come." Referring to the upcoming LNG (Liquified Natural Gas) boom in northern British Columbia as well as the current boom of mining mega-projects popping up all over the province.
To reiterate, "cooperative alliances will be the new way of doing business."
We have added several brand new Link-Belt cranes to our fleet in the past few months including:
– Two new 90 ton Link-Belt RTC8090's
– One new 50 ton Link-Belt RTC8050
– The new cutting edge 110 ton Link-Belt TC1100 Telescopic Crawler Crane
Just like our Rough Terrain Cranes, the Crawler has the ability to work in tight spaces for superb job-site mobility. It has a very robust full power boom that can accomodate many attachments, including the new Diversified man-baskets, of which we are now a distributor for. The Crawler can be transported in as little as 3 loads and can be mobilized quickly to save our customers time. For more information on any of our new cranes, refer to our Equipment Page . For all of our load charts, refer to our Load Charts page. If you have any questions please don't hesitate to reach out to us at info@allwestcrane.com we're here!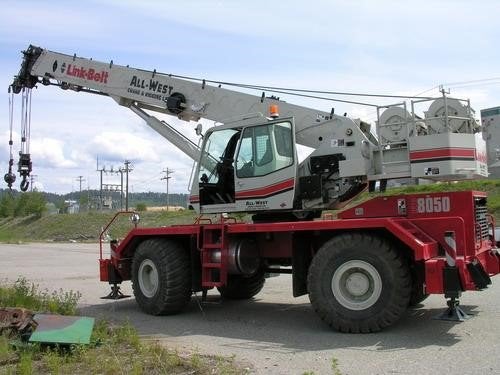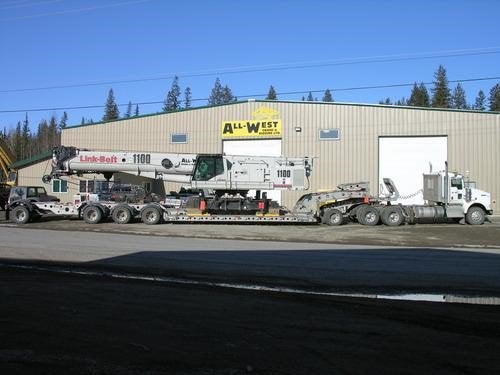 Archives
2018
2017
2015
2014
2013