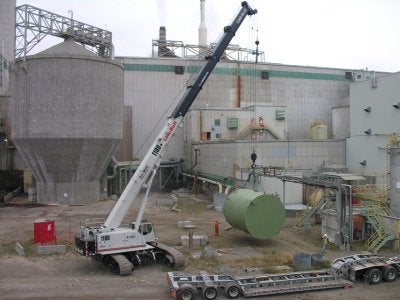 On Sept.26 All-West Crane and Rigging moved an oversize load through downtown Quesnel while residents slept. The load, an acid storage tank for Cariboo Pulp and Paper was so large that the lowbed carrying it had to lower its suspension just to fit under the Moffat Bridge over top the Quesnel River.
The load fit under the bridge with only a few inches to spare. Loads this large can only be transported at night between 12 and 5 am, with special permits and with a minimum three pilot cars to warn and stop traffic when needed. Traffic was stopped at both ends of the Moffat Bridge to allow the truck to crawl slowly across the bridge with a spotter to make sure they didn't get too close to the bridge beams. The move was a success, taking just over an hour and a half to go 9.1 kilometers.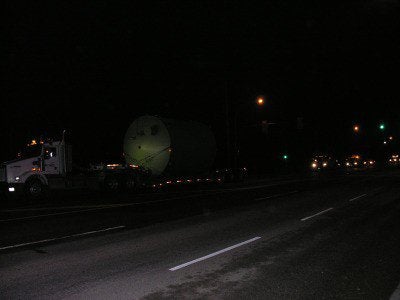 Heavy loads are no problem for All-West Crane & Rigging; it's what we do. After transporting this 28,000 lb acid storage tank to Cariboo Pulp and Paper during the middle of the night, due to oversize load restrictions, our 110 ton Telescoping boom Crawler was ready and waiting to unload and set-up the new tank. The tank had to be lifted over cable trays full of power lines, and lowered into place on a newly constructed concrete pad.
West Fraser's Cariboo Pulp & Paper pulp mill is humming with activity this week as they work on this years biggest shut-down. West Fraser knows who to call when they have heavy items to lift in challenging areas with a limited amount of space. All-West Crane & Rigging has 7 cranes on-site including our 3 ton SpyderCrane, 18 and 55 ton boom trucks, and four rough terrain cranes including two of the 90 ton RT's pictured here, and our largest crane, the 130 ton Rough Terrain Crane.
All-West Crane & Rigging is well seasoned in sawmill / pulpmill construction, maintenance, and shut-down work and offer a thorough service including lift planning, crane rental / operation, supervision, critical lift planning, logistical support, specialized rigging and much more.