DICA
SafetyTech Outrigger Pads
Engineered, Unbreakable & Built to Last
Equipment support is achieved by spreading the load from an outrigger float over the larger surfaces of outrigger pads. This reduces the overall pressure being directed into the ground and effectively supports and stabilizes the equipment.
DICA's SafetyTech outrigger pads are light weight and boast standard ergonomic features making them safe and easy to use.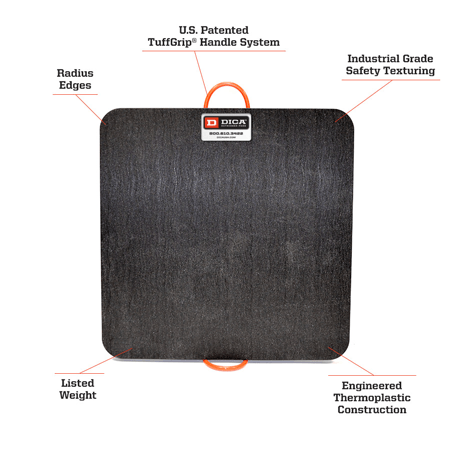 Industry leading features include:
DICA's guaranteed unbreakable material provides exceptional strength and durability.
DICA pads weigh up to 50% less than comparable wood outrigger pads.
Industrial grade safety texturing provides an effective non-slip surface for both equipment and personnel.
Patented TuffGrip Handle system. Handles provide exceptional strength and grip comfort in an easy to use handle. Compact lengths encourage safe lifting while reducing the risk of tripping or entanglement.
Round pads reduce the potential for injuries by allowing personnel to roll the pad.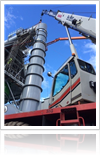 All-West Cranes are Hard at Work in BC and Alberta….
With a fleet of 16 cranes and a fleet of support equipment, including hanging and fixed man baskets, All-West Crane & Rigging meets the needs of the mining, construction and mill industries, as well as the private sector, as nothing is too small or too large for us! Our skilled operators are courteous. professional and exacting, and they ensure that all workplace safety procedures are followed, creating an environment of trust and respect. Our use of 3D Lift Plan allows for cost effective lifts with an emphasis on safety.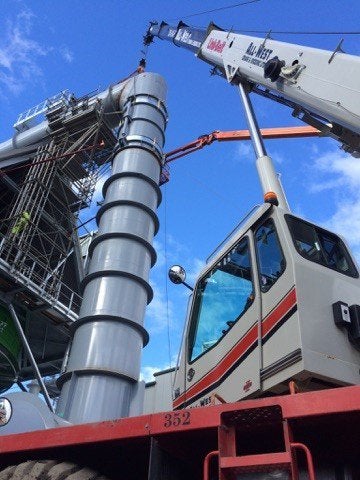 All-West Crane & Rigging hard at work in Alberta out of our new Edmonton Branch……
Tapping into the Alberta market is not an easy task, but All-West Crane & Rigging is making a positive name for ourselves due to the hard work and dedications of our employees and owners. We now have an office in Edmonton, with several cranes at the ready for all types of lifting. We are excited to be working in such a dynamic and friendly environment!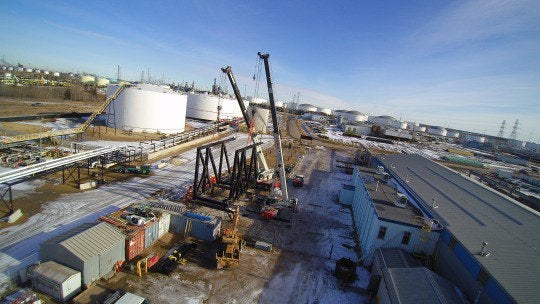 Super Rigid, Super Strong and Super-Sized for the Biggest Equipment
Made of fiber reinforced polymers, FiberMax outrigger pads, crane pads, and crane mats feature higher rigidity properties than the SafetyTech product line.
The higher rigidity properties make FiberMax products ideal for higher outrigger reaction loads and lower soil bearing capacities.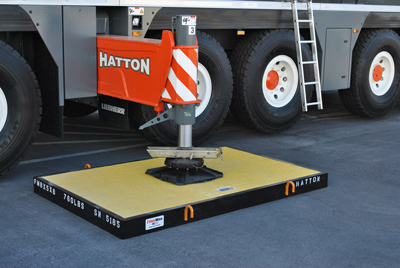 Industry leading features include:
– Impervious to water and chemicals
– High visibility safety yellow
– Ergonomic handles, edges and corners
– Non-conductive
– Industrial grade safety texturing
DICA produces three classes of FiberMax outrigger pads including: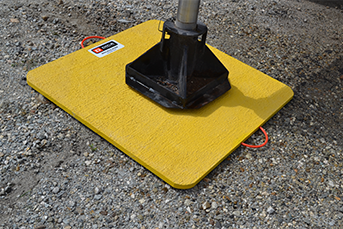 Heavy Duty – for ground load ratings from 5,600 lbs. up to 160,000 lbs.
Super Duty – for ground load ratings from 22,500 lbs. up to 160,000 lbs.
Mega Duty – for ground load ratings from 62,500 lbs. to 800,000 lbs.
Archives
2018
2017
2015
2014
2013