Why you should choose All-West Crane & Rigging!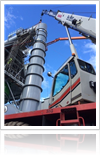 All-West Cranes are Hard at Work in BC and Alberta….
With a fleet of 16 cranes and a fleet of support equipment, including hanging and fixed man baskets, All-West Crane & Rigging meets the needs of the mining, construction and mill industries, as well as the private sector, as nothing is too small or too large for us! Our skilled operators are courteous. professional and exacting, and they ensure that all workplace safety procedures are followed, creating an environment of trust and respect. Our use of 3D Lift Plan allows for cost effective lifts with an emphasis on safety.