DICA
SafetyTech Outrigger Pads
Engineered, Unbreakable & Built to Last
Equipment support is achieved by spreading the load from an outrigger float over the larger surfaces of outrigger pads. This reduces the overall pressure being directed into the ground and effectively supports and stabilizes the equipment.
DICA's SafetyTech outrigger pads are light weight and boast standard ergonomic features making them safe and easy to use.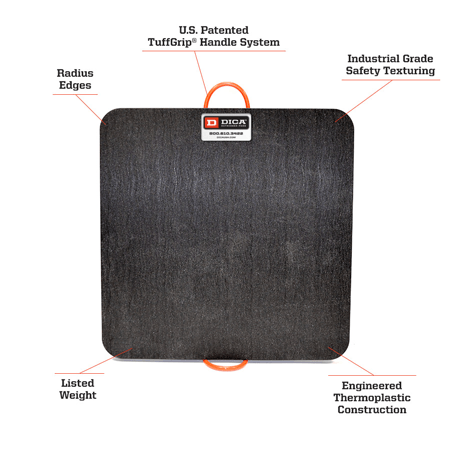 Industry leading features include:
DICA's guaranteed unbreakable material provides exceptional strength and durability.
DICA pads weigh up to 50% less than comparable wood outrigger pads.
Industrial grade safety texturing provides an effective non-slip surface for both equipment and personnel.
Patented TuffGrip Handle system. Handles provide exceptional strength and grip comfort in an easy to use handle. Compact lengths encourage safe lifting while reducing the risk of tripping or entanglement.
Round pads reduce the potential for injuries by allowing personnel to roll the pad.