In Canada, over 100 people die in excessively cold and stormy conditions every year.1 Snow, ice, and poor visibility affect everyone, including drivers and construction crews using a crane rental service. These can affect crane service and bring construction projects to a halt.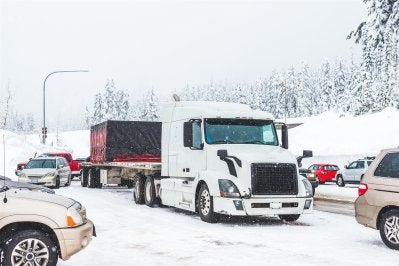 The hazards include:
Hypothermia : Overcooling and frostbite are possible by working outside too long in very cold temperatures. At temperatures of -26 to -28C and 16 km/h winds, heavy physical work shouldn't last more than 75 minutes with two breaks. At 32 km/h, it shouldn't be more than 40 minutes with four breaks.2
Equipment risks : High winds during a winter storm can cause cranes and hoists to swing and construction materials to break loose. A crane for rent that's not stable can lose loads or damage structures and equipment.
Vehicular risks : Freezing rain and ice pellets can coat the ground and utility lines and poles, but ice fog can reduce visibility on roads. Blizzard conditions aren't needed for roads to be hazardous.
Even with the best crane truck British Columbia crews can find, the hazards still exist. Aside from an affordable crane rental, prioritize winter safety to workers and shield drafty areas. That way, with crane rental, Alberta/BC crane operators and others can work more safely.
The crane companies Edmonton and crane companies Alberta construction crews rely on would expect you to work safely, so expect the same from your crew. For more information on crane rental in Edmonton, and our general crane rental services, contact All-West Crane and Rigging Ltd. at 250-992-5592.
Sources
https://www.canada.ca/en/environment-climate-change/services/seasonal-weather-hazards/be-prepared-for-winter.html