Edmonton, Alberta, Crane Services
Cranes, Rigging, and Service Support for Regional Construction Jobs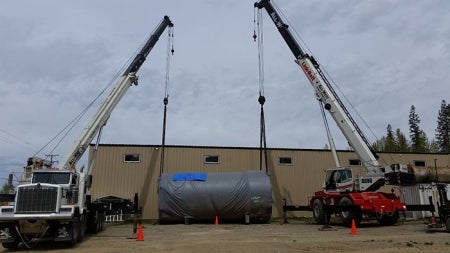 Whether you need a rough terrain crane rental or to see load charts for cranes, we offer the quality service to support your project. Customers have relied on us to supply the equipment for bridge building, mining, transmission line projects and steel erection. We have small cranes for rent if your capacity needs aren't that high, or we can provide a 130-ton link belt crane or 100-ton mobile crane to support large work projects that demand very heavy lifting. We have access to any size crane you need to get the job done!
All-West Crane and Rigging Ltd. is privately-owned and operated. Proud to serve Edmonton, we can offer service and support 24/7. We have a certified Health and Safety Management System, so you can expect the same level of quality from our crane equipment. If you need assistance finding the right boom truck capacity, crane charts, crawler crane rental, or cranes for sale in Edmonton, Alberta, our experienced team will address all your questions, needs, and concerns.
Edmonton Crane Rental & Services
All-West Crane and Rigging Ltd. has the equipment to make your job site safe and efficient. When crane and rigging equipment are needed to get the job done, you can count on us to supply and transport the cranes, trucks, and support equipment required.
Our company can provide:
Rental cranes: Our well-maintained mobile crane rental fleet ranges from the Tadano GR-150XL 15-ton hydraulic unit to the Link-Belt RTC80130 130-ton rough terrain model. We also offer a 110-ton telecrawler, 55-ton boom trucks, a 100-ton truck crane, and an 8.5-ton carry-deck. A variety of cranes for hire mean you can find equipment for just about any job requiring heavy lifting.
Cranes for Sale: Make full use of a 50-ton crane load chart to help with purchasing decisions. Our sales team offers the highest quality Link-Belt and other cranes. Newer models sometimes become available, enabling us to offer cranes for sale in Edmonton that have been replaced.
3D Lift Planning: Our software helps plan a construction project and select the crane, boom lift, and equipment you need. We even share 3D plans online using the dimensions and weight of each object to be lifted, and the locations and size of obstructions at the work site.
Equipment Sales in Edmonton
Edmonton, Alberta, customers can benefit from Diversified Products Development man-baskets we distribute. These streamline transmission line installation/service activities. We also maximize safety by providing DICA outrigger pads and help secure material handling operations with products from Caldwell Lifting Solutions.
Get in Touch Today
Learn much more about our services on our website, and view testimonials and the project gallery to see how we've satisfied customers for years. To get in touch, submit our online form or call us at 844-200-8496 today!
Get Lifted
Privately Owned & Operated
25 years of experience in mining & steel
3 Dimensional Lift Planning service, which provides a true 3-dimensional perspective, crane set-up and rigging design.
We maintain the highest standards in safety by applying a thorough lift planning process and by employing well trained and highly qualified riggers, drivers, and operators.