Professional Crane Support Equipment in Alberta, CA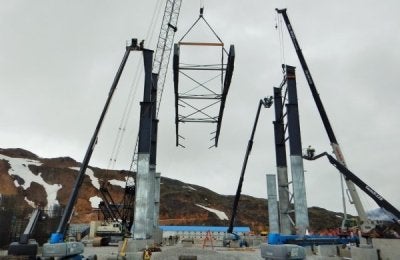 Whether you're remodeling a small building or an enormous skyscraper, there are some jobs that can't be done purely with trucks and hands-on labour. If you need to be able to easily lift and move heavy materials around the job site, you're going to need reliable, durable lifting equipment. At All-West Crane & Rigging, we aim to help you get the high-quality crane truck equipment you need to complete the job efficiently and accurately, from comprehensive crane service to options to purchase a used crane.
Our Rental Equipment and Services
All-West Crane & Rigging Ltd. offers a wide variety of cranes, rigging equipment, and other supporting machinery to Alberta area customers. A crane rental can be delivered directly to your job site by our reliable transport fleet (two highway tractors, one highboy, one standard low bed, one lightweight low bed and one B-Train). Should your equipment needs require additional transport capabilities, we'll find a way to make that happen.
Our customers can take advantage of great rentals like the following:
Rough terrain cranes

Tadano GR-150XL
Link-Belt RTC80130
Link-Belt RTC8090-II
Link-Belt RTC8065-II
Link-Belt RTC8050-II
Grove 740B
Crane truck vehicles

Link-Belt HTC86100-II
NBT 55 National Truck Crane
TM1882 Tadano Truck Crane
Other cranes

Link-Belt TC1100
Broderson Carry-Deck
URW295 Mini-Crawler
Support equipment

DICA SafetyTech outrigger pads
Forklifts
Bobcats
Enclosed trailers
Car haulers
In addition to crane and rigging rentals, All-West Crane & Rigging Ltd. generally offers a small selection of equipment for sale. This selection changes with time as vehicles are rotated out of our active rough terrain, boom truck, truck crane, and carry deck rental fleet.
We also offer a unique 3D lift planning service that allows customers to simulate work on a given site and identify which lift configurations and movements will be appropriate for the job, as well as proper crane sizing and rigging selections. Clients are then given a properly designed plan that can be referenced on-site at any time.
Why Rent Crane Equipment from All-West Crane & Rigging?
Whatever the size and scope of your construction project, All-West Crane & Rigging has the right equipment for the job at competitive hourly rental rates. Our safe, reliable, well-maintained fleet of cranes, rigging, and lifting equipment have been assisting in Canadian construction efforts for more than 10 years. With 25 years of experience in the steel and mining industries, our expert staff is well-versed in the importance of construction safety.
To learn more about our equipment and services or obtain a quote for crane rental, call our Alberta location today at +1 250-992-5592. We look forward to helping you meet your construction goals safely and easily with top-of-the-line crane service.
Get Lifted
Privately Owned & Operated
25 years of experience in mining & steel
3 Dimensional Lift Planning service, which provides a true 3-dimensional perspective, crane set-up and rigging design.
We maintain the highest standards in safety by applying a thorough lift planning process and by employing well trained and highly qualified riggers, drivers, and operators.