Crane & Rigging Services in Alberta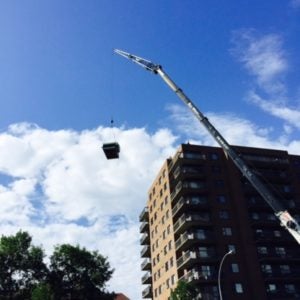 Construction companies across the province of Alberta can rely on All-West Crane & Rigging Ltd. for first-rate crane rentals and support services. We're a privately owned business that takes pride in providing our customers with top-notch lifting equipment and attentive, individualized service. Whether you need an overhead crane truck for a day or a fleet of them for a long-term project, we'll do everything within our power to ensure that you enjoy the benefits of reliable equipment and qualifies operators from a company that cares.
Areas We Serve
We serve all of Alberta, including:
We have a fleet of dependable truck cranes, Rough Terrain cranes, carry decks, and related equipment available for rent. From heavy boom trucks that can safely handle more than 50 tons, to compact mini-crawlers that fit inside a freight elevator, our inventory features a number of high-quality units that will provide invaluable help at your site with the help of our safety oriented, professional operators. Feel free to contact us with any questions about our mobile crane rentals.
Our inventory is continually expanding to encompass a broader range of crane support equipment useful in construction applications. This collection of equipment includes a variety of forklifts, bobcats, car haulers, and enclosed trailers—all in tip-top condition and available for your next job.
With six transport vehicles in our fleet, we'll get your gear to where it needs to go, even in bad weather. Our collection of vehicles includes a low bed, a highboy, and two Kenworth highway tractors.
For many construction companies, making the transition from renters to owners of crane equipment is an important step in their growth. You can find a selection of quality used cranes for sale right here on our website.
We're proud to act as a distributor of gear crafted by Diversified Product Development, a design firm that specializes in heavy mobile equipment. Available products include the LiftWise line of man baskets and related products for industrial use.
Following the DICA fitting assessment is your best strategy when it comes to determining the right outrigger pad setup so you can avoid potentially serious on-site injuries and mishaps. Our inventory contains several built-to-last outrigger pads suitable for your equipment.
Let us develop a 3D lift plan for you. It's a great way to ensure that you can use your crane (or cranes) in a safe, efficient manner onsite. We provide a detailed plan that you can view online in live 3D.
Our team of skilled riggers, drivers, and operators benefits from our 25+ years' experience in the industry, and our areas of experience cover forestry, mining, oil & gas, plant maintenance & construction, commercial & residential construction, and more. At All-West Crane and Rigging Ltd., you can count on our crane services for your next big job.
For more information about our crane rentals and related services, please call our Alberta office at 844-200-8496.
10971 274 St.
Acheson, AB T7X 6T7
Phone: 844.200.8496
Get Lifted
Privately Owned & Operated
25 years of experience in mining & steel
3 Dimensional Lift Planning service, which provides a true 3-dimensional perspective, crane set-up and rigging design.
We maintain the highest standards in safety by applying a thorough lift planning process and by employing well trained and highly qualified riggers, drivers, and operators.