Stock Your Fleet – Cranes for Sale in Alberta, Canada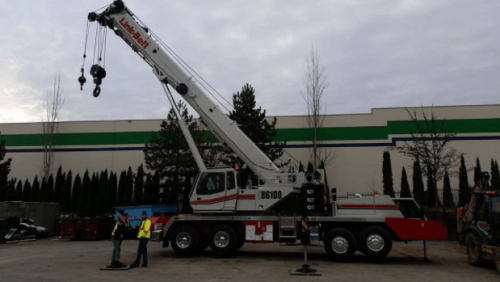 All-West Crane & Rigging Ltd. is the leading source for all your crane needs in Alberta. Privately owned and operated, our company has over 20 years' experience in the mining and steel industry, so we're knowledgeable about the latest demands and regulatory requirements. We have a select few used cranes for sale and offer professional crane service and crane rental. Customers in British Columbia and Alberta, Canada can, therefore, depend on us to meet all their lifting operation needs, under one roof, from finding crane load charts to a 100-ton mobile crane.
Why Buy from All-West?
We are a local company, founded by local residents determined to provide regional business with everything they need to ensure their crew is well-equipped and safe. Recognition from The British Columbia Construction Safety Association proves we're serious about our business and the safety of our employees. We hold the BCCSA'S COR (Certificate of Recognition) for health and safety and our safety track record is exemplary. We're committed to supporting the well-being of your employees.
If mobilization is important, our Link-Belt mobile cranes will do the job. Their footprint is small, but the cranes have a large reach and a high lifting capacity, indicated, for example in a 50-ton crane load chart or crane charts for the specific-capacity equipment you need. These systems provide a cost-effective solution to boosting almost any lifting operation. Whether you need a 30-ton crane for sale or are looking for a 90-ton Link Belt crane, our team is ready to assist you in acquiring the equipment needed to support your business.
Why Buy a Crane?
There are many reasons to purchase a new or used crane from All-West. Although boom truck, rough terrain, and crawler crane rental are options, owning a complete crane lift system exclusively has so many benefits, such as:
Heavy lifting crane and boom truck capacity for moving a range of equipment and cargo.
High-speed delivery of goods.
Flexibility, thanks to positional and extendable booms.
Compliance with the latest regulatory standards.
A full set of safety features to protect the job site.
Expert crane service in Alberta with supportive equipment and planning services.
It is especially important to buy a lifting crane or a used crane for sale from a professional supplier. We also know everything about properly setting up and operating the equipment. From choosing the right system to meeting safety standards, we can make buying a crane and crane rigging worth it in the long run.
Crane Services to Support any Alberta, Canada Business
You can buy new equipment to support your required crane and boom truck capacity. However, there are options and alternatives to our mobile cranes for sale, such as spider crane rental and small cranes for rent, which can save a great deal of money.
Units in our rental catalog include the Tadano GR 150XL, 15-Ton Hydraulic Rough Terrain Crane; the NBT 55 boom truck with a 55-ton crane; the Link-Belt TC1100, 110-Ton Telecrawler; the Link-Belt RTC80130, 130-Ton Rough Terrain system; and many others. In addition to cranes, we also provide supporting equipment, such as bobcats, forklifts, car haulers, and enclosed trailers.
Our 3D lift planning service helps businesses choose the optimal cranes for their job sites. Focused on ensuring safety and efficiency at any worksite, our Alberta, Canada service (as is the case with cranes for sale in Prince George) is enabled by software that simulates the conditions based on real-world engineering data. We can experiment with multiple cranes without moving a single piece of equipment. Three-dimensional plans account for the dimensions and weight of every object to be lifted, and the locations and dimensions of obstructions on any job site.
For complete crane service, including crane rental in Edmonton and to find the most suitable used cranes for sale in Alberta, call All-West Crane & Rigging at +1 250-992-5592 today.
Get Lifted
Privately Owned & Operated
25 years of experience in mining & steel
3 Dimensional Lift Planning service, which provides a true 3-dimensional perspective, crane set-up and rigging design.
We maintain the highest standards in safety by applying a thorough lift planning process and by employing well trained and highly qualified riggers, drivers, and operators.