Crane and Rigging Services in Quesnel, British Columbia
Cranes for Hire in Quesnel to Meet All Job Site Needs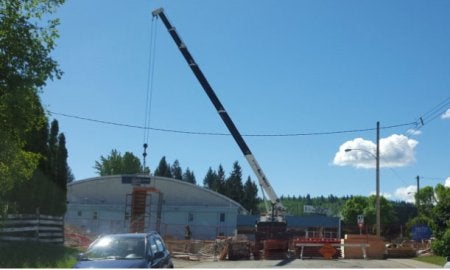 All-West Crane and Rigging has served clients in British Columbia for many years, and it supports the equipment and service needs of Quesnel builders. We offer crane load charts to help select the best cranes for the job, and offer large and small cranes for rent, as well as cranes for sale in Quesnel, BC.
Customers requiring mobilization and economics are well-served by our Link-Belt cranes. They are just the right crane equipment if you need a small working footprint, large reach, and high lifting capacity with the benefits of mobile crane rental.
Privately owned and operated and BCCSA-certified, we're just as equipped to support your crane needs as much as the health and safety of the work site. We hold the same standards in protecting our own employees as for yours, so spider crane rental, crawler crane rental, and crane rental that customers have depended on always come with safety. All-West is also the go-to company in Quesnel for builders with jobs requiring multiple cranes. A team of skilled operators and service professionals is on hand to assist in every aspect of your project.
Equipment and Cranes for Hire in Quesnel, British Columbia
We offer many options, depending on the crane and boom truck capacity you need. If you need to rent a 90-ton Link Belt crane, 55-ton crane, or 100-ton mobile crane, our fleet is fully stocked. Other systems available include a 110-ton telecrawler and 130-ton rough terrain system. Lighter capacities are supplied, too, in Quesnel, with our 18-ton boom truck, 8.5-ton carry-deck, and mobile mini-crawler for on-floor applications.
In addition to fully operated and maintained rental cranes for hire, our other services include:
Become a Satisfied Customer in Quesnel, BC
If you're looking for crane charts, the exact size can be found. We've never let customers down and afford fast access to a 50-ton crane load chart or any size your job demands. See the results from our years of experience and customer satisfaction, with the gallery and testimonials on our website. For assistance, contact us online or call 877-203-0069 in Quesnel.
Get Lifted
Privately Owned & Operated
25 years of experience in mining & steel
3 Dimensional Lift Planning service, which provides a true 3-dimensional perspective, crane set-up and rigging design.
We maintain the highest standards in safety by applying a thorough lift planning process and by employing well trained and highly qualified riggers, drivers, and operators.