Why HIRE Crane Services in Alberta?
Projects like construction, demolition, and loading/unloading freight are no small task. Unlike the labor-intensive hands-on methods of the past, today's biggest projects are often completed with the aid of large machinery like high-capacity crane and rigging systems. As one might expect, these mechanical behemoths can be quite expensive, sometimes costing as much as $90,000 for a used construction crane that's more than a decade old.
Rather than drop a large portion of the project's budget on purchasing a new or used crane outright, many companies choose to hire equipment and operators from reliable crane contractors. In Alberta, CA and the surrounding area, All-West Crane & Rigging is a top choice for crawler crane rental, Spyder crane rental, and more.
The Benefits of Hiring an All-West Crane & Rigging Crane with Operator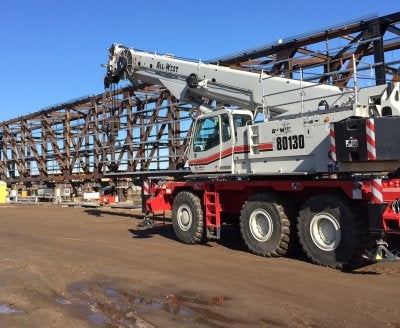 At All-West Crane & Rigging, we aim to outdo other crane suppliers by providing the highest quality of equipment and customer service to our clients. We strive to provide our customers with the best equipment to suit every project and budget, regardless of capacity requirements and size restrictions. A 90-ton Link-Belt crane rental, for example, is designed to provide reliable mobilization at affordable prices with a small footprint, extensive reach, impressive weight capacity, and quick set-up.
We Offer a Variety of Cranes for Rent
Our company has a number of hydraulic, rough terrain, boom truck, carry deck, crawler crane rental, and Spyder crane rental choices available in different models to suit different project needs and budgets. Mobile crane rental models we offer include the following:
Tadano GR-150XL
A 15-ton hydraulic crane with a six-section full power synchronized telescoping boom, built to handle rough terrain
Link-Belt TC1100
A 110-ton telecrawler crane featuring 150 ft. of main boom
Link-Belt RTC80130
A 130-ton rough terrain crane that can carry more than 40,000 lbs.
Link-Belt RTC8090-II
A 90-ton rough terrain crane that takes up minimal space (24×27 ft.)
Link-Belt RTC8065-II
A 65-ton rough terrain crane with minimal space requirements and 115 ft. of main boom
Link-Belt RTC8050-II
A 50-ton rough terrain crane built to operate in tight working conditions
Grove 740B
A 40-ton rough terrain crane with a max tip height of 173 ft.
Link-Belt HTC86100-II
A 100-ton truck crane with a large capacity and fast mobilization
NBT 55 National Truck Crane
A 55-ton boom truck crane that is the largest of its kind from the manufacturer
TM1882 Tadano Truck Crane
An 18-ton boom truck hydraulic crane with radio remote control capabilities
Broderson Carry-Deck
An 8.5-ton carry-deck crane featuring a 24-ft. boom and a 10-ft. swing-away jib
We Provide Equipment and Planning Services for a Wide Range of Alberta Area Industries
At All-West Crane & Rigging, we provide crane rigging and services for a variety of industries, including mining, oil and gas, plant maintenance, steel or precast erection, and more. With our broad selection of cranes and convenient 3D lift planning services, customers can find the right equipment—including rentals and, for example, a 15-ton boom truck for sale—and visualize the best ways to use it before ever setting foot on site.
To learn more about our fleet of crane and rigging equipment for hire or request a quote for equipment or services, call our Alberta office today at +1 250-992-5592.
Get Lifted
Privately Owned & Operated
25 years of experience in mining & steel
3 Dimensional Lift Planning service, which provides a true 3-dimensional perspective, crane set-up and rigging design.
We maintain the highest standards in safety by applying a thorough lift planning process and by employing well trained and highly qualified riggers, drivers, and operators.